Commission Abduction poses as a "highly-advanced software built to smash your online struggles". It's bold statements like, "same day income potential and very easy to scale fast" and "no website or video content creation needed" made me want to do this review so you're better informed to decide if you should try it for yourself or not. 
I'm not a fan of phony shiny shortcuts, it's demoralizing to fall into one. It can make you wave your white flag in reaching your online income goals. Before it happens to you, I'm exposing Commission Abduction for what it really is so you can save yourself from going down the wrong path.
In today's review, you're going to find out what Commission Abduction really is, how it works, why you won't make money from it, and if it's a scam or not. I'm also taking the extra mile and tell you about a way better alternative in affiliate marketing. 
What We'll Cover In This Review:
What Is Commission Abduction?
Commission Abduction is a product sold in WarriorPlus by Bryan Winters, Tom E Mcting, and Zeeshan Ahmed. It's a cloud-based software claiming to generate commission and leads by injecting personal ads to other people's video content. It was launched last February 2020. 
Bryan and Tom are the same people behind 5 Figure Day Full Throttle, Monster Mode 700k, Stuff My Inbox, CB Money Vine, and DiddlyPay both low-end, overpromised income systems so I'm not really optimistic with Commission Abduction. 
They say it's 100% newbie-friendly and can be set up as fast as 3 minutes. They also claim this software is a "closely-guarded technology" where you get 100% commission by kicking Youtube out of the picture. 
With this software, they promise unlimited income potential in whatever you promote. This means you already have to have a basic idea of what affiliate marketing is and what profitable products you can promote debunking the claim it's newbie-friendly. 
Aside from earning commissions, Commission Abduction also claims to be an excellent tool to grow your email list. Again, you'll need email marketing skills for that refuting the newbie-friendly claim. 
The Price To Get Started With Commission Abduction
Commission Abduction's front-end software costs $20. You'll also have to spend a whopping $545 for upsells. 
As you can see, the upsells cost more than the front-end program. This is usually the case because the main product is just a ruse to let them squeeze your pockets empty with the upsells. 
I'd like to tell you a bit about each upsell and tell you why I think it's a waste of money.
Upsell 1: Cash Cloner ($57)
Apparently, the front-end software only allows a maximum of 50 campaigns. By getting this upgrade, you'll be able to create unlimited campaigns and will get a developer's license which you can't legally use anywhere.
At this point, you're still not sure if you can really make money with 1 campaign alone so why risk paying more for something unguaranteed to get you commissions?
Upsell 2: Money Modulator ($97)
Getting this upgrade gets you 3 additional features on your software. 
Article Box: displays user's blog articles on the video overlay to drive traffic to blogs. (can't I just use the existing Call To Action Feature?)
Product Box: showcases user's own products to the video overlay to drive traffic to their offers (I thought the whole system was built for this purpose?)
Optin Form: used to capture leads to build an email list (The sales video made it seem this was already in the front-end feature, now I have to pay for it?)
Upsell 3: 10X Files ($197)
This upgrade adds 10 "professionally-made" done-for-you campaigns to embed in the video. 
It's easy to claim it's professionally made but a completely different story showing who this professional is and showing proof using these campaigns are profitable. 
Upsell 4: Deep Traffic ($97)
This upsell unlocks "powerful, advanced traffic training modules" to scale your income to 5 figures every month. 
Why will I need this in the first place is when I was promised unlimited income with the front-end software alone?
Upsell 5: Figure Replicator ($97)
This gets you a reseller's license for the software. But you'll only be able to sell it if people see it's proven to make money. So far, you haven't even made a dime yet. 
Also, if you've been to the sales page, it says the refund is good for 30 days, but once you check out it's only for 14 days.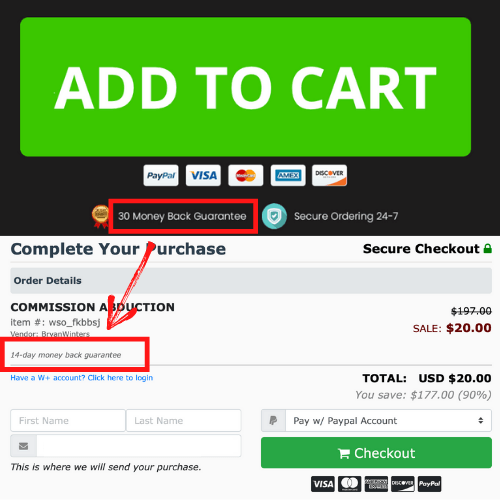 Overall, these upsells cry down the front-end's capacity while in the sales video it was portrayed as something all-in-one just so they can fork out more from you. 
How Commission Abduction Works
Commission Abduction's concept is earning commission from affiliate links embedded on other people's videos. It says it leverages the same method Youtube uses to make money, placing ads on videos. The ads you put in the videos are the links to the products you promote.
In theory, it benefits you in 3 ways:
1. You won't have to pay for ads to promote your product.
2. You'll earn from the ads because you're promoting you affiliate links.
3. You won't need to make your own promotional videos.
Bryan claims Commission Abduction unleashes "autopilot income machines" in 3 steps:
Step 1: Selects a well-known Youtube video. The problem is, you won't know if the video you'll find has a Creative Commons license or not. 
Creative Commons is a permission from the content creator to use their video, without it, using other people's videos will be deemed illegal. This reminds me of the YTA Method.
Step 2: Monetize the video by embedding your affiliate link using the "Add Campaigns" tab
Step 3: Recommend the video on free "hotspots" to make money (there's really no free "hotspots" so you have to work on traffic yourself). Although the software features a "Site Jacker" you can use to embed your video campaign on websites.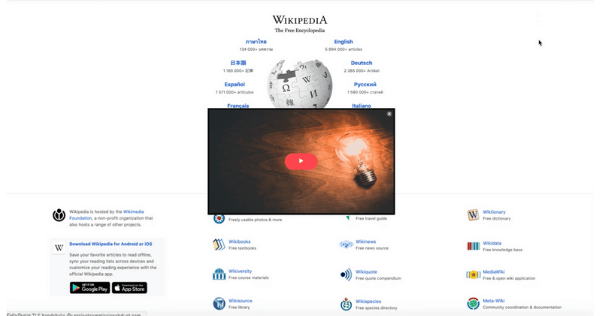 However, since the video will be sort of a pop-up, people visiting the site for other reasons will simply exit the video without watching a second of it. OR maybe you'll be the only one seeing the video on the website (just to make you think this feature works) but when others open it they won't see it.
So the only other choice you have is to share the video on your social channels but unless you have a large following you'll only have a handful of people who knows your video exists. 
You'll find a short training video about these steps in the dashboard. But do you honestly think a 16-minute video can teach you how to make 1,000s every day?
4 Reasons I Wouldn't Use Commission Abduction
1. Driving Traffic Is A Huge Challenge
Let's say you have a video campaign ready; the challenge is how you can drive traffic to the video. 
Your video won't be allowed on Youtube (where most people are) because it's a duplicate and it can get banned. (Also, the reason why Bryan says you won't need a Youtube account.)
The next course is to post it on websites and on social media, but as I said earlier, this will just be ignored on websites and you won't get much traffic if you don't have a lot of followers on social media.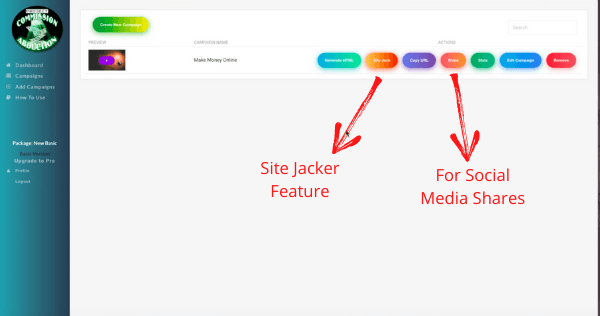 2. Unethical
Bryan says, "normally you need to make to make video content". By saying this, he's making it sound like creating your own content is a fleeting trend. It's not a trend, it's the standard rule. 
Using other people's content for commercial purposes violates fair use. 
Moreover, the first rule of copyright says you're not authorized to upload videos you didn't make. Since you upload the video on Commission Abduction in order to edit it to your advantage, you're breaching this rule. 
3. It Won't Make You Credible
When people realize you're just using other people's content, they'll know you have no authority in your niche because if you do, you'll be able to make your own content on any topic with ease. 
4. Too Much Hype
You'll end up disappointed when you fall for every promise Bryan made. Commission Abduction WON'T generate income for you on the same day you bought it nor in the following days to come. 
It won't help you generate leads because you have to drive traffic yourself in the first place. 
Plus it promises you'll earn from affiliate marketing and email marketing without really teaching you everything you need to know about these 2 business models. 
Clearly, they're just leveraging these to 2 legit make money online opportunities to make their income system look legit and profitable. 
Is Commission Abduction A Scam?
No, Commission Abduction is not an outright scam because you're provided with the software you can use to edit content to your benefit. But since it uses an unethical method of making money online, it can pass as borderline scam. 
This is not the only reason I'm not recommending Commission Abduction. They also do not provide the needed training for you to understand how making money online really works so you'll just be left in the dark trying to figure things out yourself after they lumbered 100s from you. 
Where Do You Go From Here?
Commission Abduction won't help you "abduct" commissions, it's the other way around. 
Here's the timeless truth in making money online, no shortcut will get you the income you hope for. 
Ditch the fake golden nuggets and learn how you can make money with affiliate marketing the right way. 
To put it simply, affiliate marketing involves creating your OWN website, creating your OWN compelling content, getting ranks and social share, and monetizing it by promoting relevant products.

You have to do some heavy lifting yourself to get the weighty income you aim for. Commission Abduction doesn't teach you that,  but Wealthy Affiliate will.
Wealthy Affiliate includes in-depth training and a community of people who have the same goal as yours so you won't be left alone in the dark. 
You can even test the 1st 10 lessons for free!
To know more about Wealthy Affiliate, check out this tell-all Wealthy Affiliate review. This is where your income goals will become a reality. 
What's Your Take?
Did you think the sales video was full of baloney too? Were you surprised the training is only 16 minutes long? Did you think the methods were fishy? 
Share your thoughts in the comments section below. 
Hi I'm IG, nope not a kin of the social media; I've been IG since '93. I'm 1 part writer, 2 parts reader and 3 parts puzzle nerd.
Source link