Creating an income-generating website can be burdensome if you're just starting out. Free Turnkey Websites supposedly helps you by creating a "highly-optimized selling machine that LITERALLY does all the work for you". Sound like something you'll hear from scams, right?
It's still too early to tell whether Free Turnkey Websites is legit or not. So, we'll go over what this opportunity really is and how it claims to help you make money to see whether it can work or not. 
In theory, plug and play websites can sound appealing until you realize what it can only do for you. Aside from telling you what Free Turnkey Website is, I also explain to you what really takes to make money online so you can single out the legit one from all the fake shiny shortcuts. 
What We'll Cover In This Review:
What Is Free Turnkey Websites?
Free Turnkey Websites offers to create done-for-you income-generating websites for free. It promises to take care of domain and hosting expenses for you. 
The sales video says you can make $50-$500 per day with it. It even claims even its laziest member makes $2,000 from it. It's supposed to generate quick income for you to add or replace your current income source even if you have no initial skills or experience. 
By simply providing your name, email, address, phone number, and password you'll have your own money-making website in just 5 minutes. 
Here's the kicker:
The earning disclosure bust all its claims by saying they can't guarantee anything. 

That's not all. The Privacy Policy page states your personal information WILL be sent to third-party businesses so they can pitch you offers through email, calls, and text. Get ready to get spammed and to receive unwanted calls and texts!

3 Steps To Make Money With Free Turnkey Websites
Free Turnkey Websites' dashboard immediately shows a video guide on the steps you need to make next. On the left side, you'll see the first few tabs are step by step guides you need to do followed by tabs on training, managing your websites, and profile.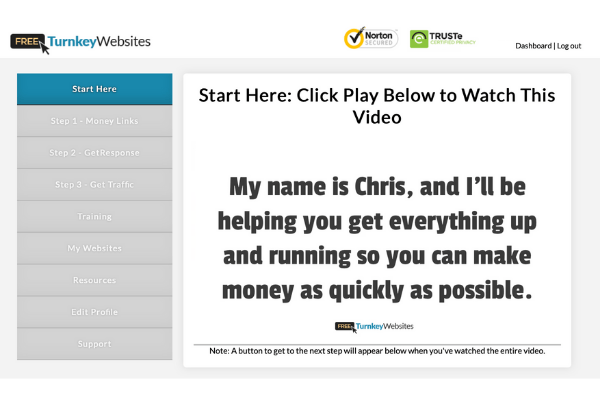 The first video you'll access will make it clear that you won't be able to access the succeeding tabs unless you follow each step. Now, let's talk about the 1st way to make money.
1. Give Away Free Turnkey Websites
Apparently, you can earn $1 for each turnkey website you give away and $0.50 if someone who received your free websites also invited others to sign up. Easy peasy, right?
This basically means you get an income for giving something free. 
To me though, it checks the tick boxes on a get-rich-quick scheme.
The website is done for you
Fast income for doing something effortlessly
Things like these always come with a catch, and good for you, I spotted it. You'll understand this better with the 2nd way to earn.
2. Build An Email List
When someone signs up from your website giveaway, they'd have to provide their name and email. These details go to your list and also to Free Turnkey Websites' list. 
Here's the catch:
How will people know you're giving out free websites? Of course, they'll need to see it when they search the web. 
How will you get noticed among an avalanche of websites on the internet? Evidently, you need to have TRAFFIC. 
In this case, you won't be able to rely on free traffic because most likely you got interested in the "free money-making website" pitch because you have no prior experience in it.
This is why as early as when you were still filling up the sign-up form, Free Turnkey Website pushed you to buy a traffic package. 
They'll pitch it again on the first dashboard video because clearly, you'll need it to get noticed online. 
Yes, the website is free. But then you'll be forced to fork out money to get traffic. This is where they'll earn. 
Think about this: 
Free Turnkey Websites offers a free website but makes you pay for traffic which also benefits them because they'll be adding an email to their list so they can pitch products to earn more. 
Who pays for promotion? YOU.
Who benefits from it? THEM. 
The funny thing is, not only is the idea sneaky, the whole traffic thing is unreliable. Instead of getting real people to your website, the speculation is, they'll just be sending bots.  
Crazy, right?
Even if they didn't send bots it still won't work.
You see, paid traffic is a game of trial and error. Getting the right paid campaign also takes time and experience and this can mean a lot of spending on your end. 
Unless you get the right traffic to the right audience, you're just wastefully flushing money down the toilet. 
I know you initially got interested in Free Turnkey Websites because it's free. Far from its claim, the whole concept needs you to spend to make money. And you don't just spend for a day's worth of trial and error, testing traffic campaigns can take months!
Who benefits the most? THEM.
The whole idea boils down with them collecting leads while you do all the spending. 
BUT WAIT… Free Turnkey Websites promises profitable traffic. Does this eliminate the problem of concocting the perfect campaign?
I don't think so. 
Think about it:
Why will they sell their "profitable traffic" to you? 
If they did, this means instead of getting all 100% of the traffic to THEIR website, they'll send a portion of it to YOU. This can mean fewer conversions for them. 
Here's why:
In reality, they're not generating any conversions from their traffic. Since they can't make money from it, they resort to selling it to others to make money this way instead. 
If I had a money-machine traffic campaign, I'll keep it securely guarded as possible. 
3. Earn Referral Commissions From Partner Companies
Simply, affiliate marketing. The way the sales video describes gives no doubt about it.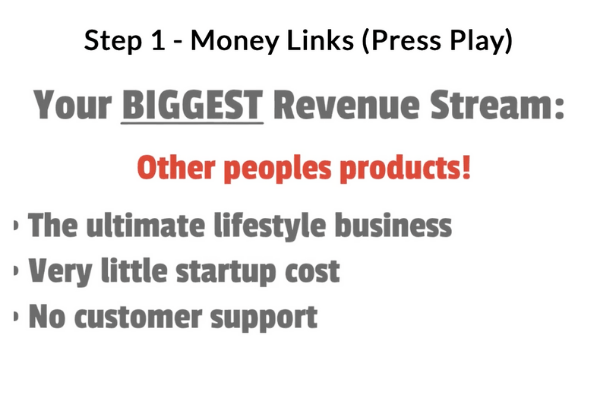 While it's true affiliate marketing is a legit way to make a sustainable income, what you promote has a great bearing on whether you'll make money or not. 
Free Turnkey Websites wants you to promote Traffic Authority's List Leverage. The problem is, List Leverage has some dodgy practices you don't want to get involved with. 
Promoting unreliable products won't help you make money, it'll just give you a bad reputation. 
Is Free Turnkey Websites A Scam?
Free Turnkey Websites is borderline scam. 
I'd love to say it isn't but as you can see, there's more to it than giving out free websites. The front-end product was a mere ruse to get you to buy their traffic packages and let you do all the heavy lifting while they get the overall benefit. 
Plus, done-for-you websites have really little value. This video will explain why:
These are not the only reasons why I can say Free Turnkey Websites is not completely legit.
3 Reasons Free Turnkey Websites Is A Scam
1. Unknown Owner
Although the video narrator named himself as Chris, I can't completely say it's the true name behind the voice. He doesn't even mention if he's the owner or not. 
An unknown owner is a definite proof something is a scam, but it does put it in a bad light. Why else will they hide who they are if their website is legit?
2. Fake Testimonials
The one element that can prove it legit, proves otherwise. Instead of adding to their credibility, it adds to doubt.
If people really made money with this, it won't be hard to find someone to vouch for them.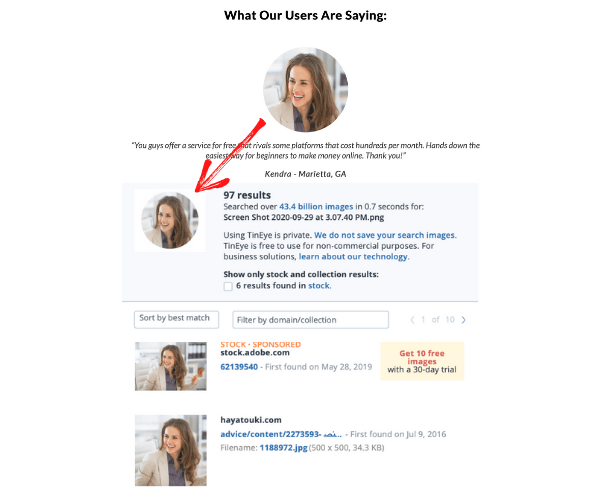 3. Shares Personal Information With 3rd Part Sites
This doesn't always sit with me well. You can't be too sure they'll just give out your name and email for sales pitches. Just including the password can be very damaging.
A lot of scammers bank on the idea you'll use the same information for every online account you have, if your information got into the wrong hands, it will be safe to assume you'll wake up with a zero balance bank account or a stolen identity one day.
Where Do You Go From Here?
Doing things the easy way is always enticing. Why will you need to do things the hard way when there's an easy one, right?
But the thing is, in most cases, doing things the hard way can be the difference between making an income and never getting a chance at one. 
Shiny shortcuts are tempting, BUT THEY NEVER GIVE YOU WHAT THEY PROMISE. 
Instead of wasting your time on easy unreliable shortcuts, it's always better to learn how you can generate a full-time income with legit opportunities like affiliate marketing.
Rather than saying getting your money-making website only takes 5 minutes, Wealthy Affiliate will teach you how everything really works from scratch.
Don't throw in the towel yet, making money online is not a lost cause. For starters, you can test the waters out with Wealthy Affiliate's 10 free lessons. 
It will teach you the right steps in how you can really make money online. 

Read my full and honest Wealthy Affiliate review to find out why I'm all good words for it. 
What Do You Think?
Did you also detect everything about Free Turnkey Websites is just too good to be true? How did you feel about it? The comments section is ready for your thoughts. 
Hi I'm IG, nope not a kin of the social media; I've been IG since '93. I'm 1 part writer, 2 parts reader and 3 parts puzzle nerd.
Source link