Is Instant Income Method another scam you should avoid? Or is it an online income opportunity you should try? To help you make the right decision, I'll tell you what you need to know about it before diving in yourself. 
Can you really make money online in an instant? A lot of income systems promise the same thing but fail to deliver. All they want is for you to turn in your hard-earned cash and teach you one of the most sobering lessons in making money online of not quickly trusting in every shiny shortcut promising you 1000s in daily income. 
Today you're going to find out what Instant Income Method is, how it's supposed to help you make money, if it's a scam or not, and if you should start checking better options out there. 
What We'll Cover In This Review:
What Is Instant Income Method?
Instant Income Method is not an actual product, it's a sales funnel made by Mack Mills for a credit repair MLM called MyEcon. This funnel is his way of drawing in recruitments for him to earn commissions. 
When you become a member through his funnel, he provides you a clone of it to use in recruiting others. 
It was used to be called Income Method Instantaneous, but I guess Mack realized how exaggerated it sounds and decided to tweak it a bit to make it more appealing. 
In the sales video, Mack goes on the usual gimmick of sharing his "sob story". He says he used to have a very bad credit score and used to buy everything in cash until he sought the help of MyEcon to improve his credit score. 
He also shows a picture of him with a heap of cash in front and him going out of his BMW to buy a Ferrari. Sounds like a ploy to pump you up to start imagining how luxurious you can get if you listen to him. 
But one trust marker I had with the video is Mack had himself in it instead of hiring actors to convince people. While doing my research, I found out he does make a living from making funnels for other products. Some of his other funnels are: 
Digital Income Method
Daily Income Method
Secret Income Formula
Although a bit overly hyped, these funnels promote legit products. Even Instant Income Method is a bit hyped up because he claims his funnel can get you to earn $5,000 per week. But he's also quite upfront about how the funnel's function which is great. 
A bit of an idea of what MyEcon is, it's a Georgia-based MLM founded back in 2005 teaching financial strategies. Other than helping fix credit scores, they also offer completely random products and services like Travel Membership, Health and Nutrition, Coffees, Cashbacks, and Hand Sanitizers. A bit weird if you ask me.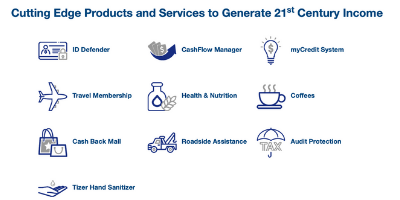 But since they've been around for around 15 years, I'd say they have some level of credibility for lasting that long. 
The Price To Get Instant Income Method
The done-for-you Instant Income Method funnel costs $97. To earn commissions from the MLM it promotes, you also have to spend $19.95 for setting up and $47 for the monthly membership. 
You'll also need to spend on solo ads with costs starting from $100, and most likely more. I'll explain why you'll need to spend on this in a bit. 
How Instant Income Method Works
As I've explained roughly earlier, you can earn from the Instant Income Method through commissions you can get from recruiting others to join MyEcon. 
Instead of personally reaching friends and family to get them to join, Instant Income Method makes the whole virtual world your "prospective recruit source" through the funnel. 
Which looks exactly like this: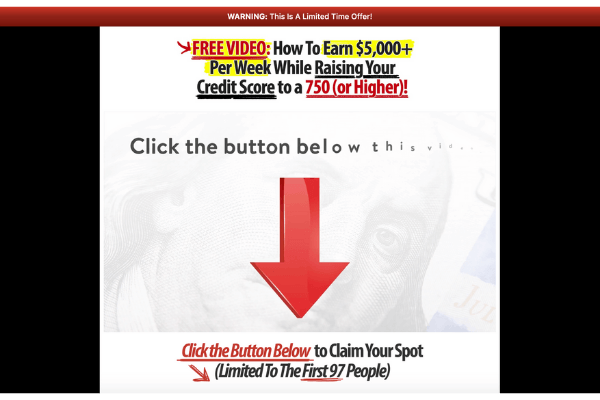 In Mack's case, he can earn commissions if you buy the funnel, and if you sign up for myEcon. On your end, you can earn from recruitment commissions. So basically, you'll be doing MLM minus harassing your friends and family. 
True, it's not easy to make compelling funnels so Mack offers to do it for you. This is especially helpful for beginners who don't have the skills and experience yet. 
Mack offers you a funnel with a video promoting MyEcon in it. It includes testimonials of people who were helped by MyEcon to earn a sustainable income. 
But for the funnel as a whole, I find it quite unengaging. It looks too plain and doesn't include other important information other than what you can hear and see on the video.
You'll have to convince people to stay for the whole video so they'll know how things work and how they can make money by being a MyEcon affiliate. 
If you want a better picture of MyEcon, here's video you can watch:
The problem is, Mack only promotes paying for solo ads to drive traffic to your funnel. This won't be so helpful for beginners.
Here are 3 problems I have with solo ads: 
1. Solo ads involve a lot of costs especially for new ones because it entails a lot of trial and error to get the right mix in making a highly converting campaign. 
2. You won't know for sure if the email list receiving your campaign is targeted traffic, unless they are, there's little to no chance of them converting because they aren't even interested in the first place. 
3. Even if you get targeted traffic (this is just theoretical) since it's a list built by other marketers, there's a high chance the people on the list had been receiving email pitches for as long as they can remember. This means, you're pitch will most likely land in the spam folder aka the "never-to-be-read-emails" folder. 
So, if solo ads are not a good way to get your traffic, will unpaid traffic do?
Yes, it will, ONLY if you have the skills to rank in search engines organically. 
This means you have to do backlinks, related content, and so much more. Ranking this way is more sustainable BUT it can take you months to get noticed. Again, you will need skills for this to work. Skills that aren't taught or even mentioned by Mack.
How about social media shares? Possibly, but unless you have a large following, the funnel will only reach a handful of people you're not even sure are interested in signing up for an MLM. 
The bottom line, the income you get out of this will depend greatly on your marketing skills like how you can drive traffic. 
Which leads me to another point.
Marketing skills: you just don't learn it by paying for Instant Success Site. You'll have to invest an ample amount of time learning how you can build and run your business successfully.
You'll have to learn how to drive organic traffic, make compelling content, and do email marketing to name a few.
The funnel alone can't flood your bank account with income.  
Since Mack doesn't provide the training you'll need, you'll have to look for other places to learn it from. 
Wanna Make Money Online But Sick Of Scams?
Cons Of Instant Income Method
At the outset, you're not told you'll have to sign up for an MLM.
Doesn't provide extensive training.
You'll have to pay for expensive solo ads to get traffic.
You have no hold on your DFY funnel when it decides to shut down someday. 
MyEcon has limited services to offer.
Is Instant Income Method A Scam?
No, Instant Income Method is not a scam. However, despite being technically legit, you can still end up spending more than you'll ever make with it especially if you're a beginner and don't make any recruits.
Where Do You Go From Here?
You have to take every income opportunity claiming to make you 1000s in income with a grain of salt.
In most cases, you're only told the tip of the whole process. In Instant Income Method's case, you're just told to use the funnel to make MyEcon recruits by paying for solo ads. 
Online marketing involves more than what Mack tells you. There are a lot of elements involved in making a sustainable income online. Unless you learn the ropes yourself, you won't have total control of what will happen to your investment. 
It's safe to say you don't want to get it flushed down the drain. 
Personally too, I'm not a fan of MLMs. It involves a lot of recruiting and for timid of people like me, it'll be a big challenge. The funnel can substitute for face-to-face sales talks but again if you don't have any traffic, you won't stand to make any sale. 
Ditch the quick fixes and learn how you can make a sustainable income from a proven and tested business model with a very wide range of opportunities to earn from. 
Affiliate marketing allows you to promote and earn from an endless line of products online. 
It's as simple as creating a niche-based website (the one you'll personally interested in), creating compelling content (which is easy because you're interested in the niche) that gets rankings and social shares, and making money from it by offering products and services that are useful and related to your chosen niche. 
Not familiar with affiliate marketing? No problem! Wealthy Affiliate offers the training you from scratch on what you need to do to build and run your OWN online business. 
Want to make sure you're investing right? Test the training for free. The 1st 10 lessons are open for you to try without cost. 
If you want to know more, read this full and honest Wealthy Affiliate review to find out why it's great training for you to take. 
What Are Your Thoughts?
Did you feel Mack wasn't telling you enough on how you can really make money online? We're you surprised knowing you'll be doing MLM with this opportunity?
Share with us what you think, we'd love to hear from you!
Hi I'm IG, nope not a kin of the social media; I've been IG since '93. I'm 1 part writer, 2 parts reader and 3 parts puzzle nerd.
Source link