Do you want to make extra money online? Swagbucks is one of my favorite side hustles you can make money with a variety of tasks including surveys, watching videos and shopping online.
Most tasks take 10 minutes or less to complete and don't require a special skill. You can also redeem your rewards for gift cards as small as $1 for frequent payment.
In this Swagbucks review, we help you decide if Swagbucks is worth your time. You will also learn how to find the highest-paying activities quickly.
Swagbucks Review

Summary
If you are looking for a way to make money by doing almost anything online, Swagbucks is a great option. You won't get rich from it, but it's a good side income idea that almost anybody can make money from.
Ease of use

Ways to make money

Reward options
Pros
Multiple ways to earn rewards points
Most tasks only take 20 minutes or less
Gift card rewards start at $1
Teens can join (age 13 or older)
Cons
Some tasks require spending money to earn points
Cash rewards start at $25
Low payouts for certain tasks
May have a hard time qualifying for surveys
Is Swagbucks Free?
Yes. Swagbucks is 100% free to join and use. Some activities require you to make a purchase, but Swagbucks never requires you to spend money to remain a member.
You only need a valid email address or Facebook account to register. If you plan on getting paid in cash, you also need a PayPal account. But, you can create that later on.
Who Can Join Swagbucks?
You have to be at least 13 years old to join Swagbucks. Membership is open to most countries. Even if you live outside North America or western Europe, try joining Swagbucks.
This a great option for teens to make money online as many side hustles are for adults only.
As an additional bonus, new members can earn bonus Swagbucks when joining!
How to Earn Swagbucks
You can finally monetize a hobby or stop wasting your free time by using Swagbucks. The secret to making Swagbucks worth it is finding the activities that you excel at.
There are seven ways to make money using Swagbucks:
Answer surveys
Watch videos
Shop online
Search the Internet
Play games
Test new products
Complete tasks online
For each task, you earn Swagbucks rewards points called SBs. The minimum payout for each action is 1 SB. Some activities can pay up to 4000 points which are worth $40.
Each earning option has different payouts. You need to choose the ones that have a higher payout for the shortest time commitment so you can "work smarter, not harder."
Answer Swagbucks Surveys
If you enjoy getting paid for surveys, Swagbucks has plenty of surveys to choose from. I like Swagbucks because you can attempt several surveys each day.
Each survey varies in payout and length. Most surveys take between three and fifteen minutes, but some are as long as thirty minutes. If you have the extra time, you should consider pursuing the longer surveys as you can make more money.
When looking for a survey, pay attention to these two tidbits:
Time to Complete
SB Amount
Like most survey sites, you will need to answer a few screener questions to qualify for the full survey. If you don't qualify, you earn 1 SB for your effort and can try again.
Bonus Tip: Each day, complete the Daily Poll to earn 1 SB in a matter of seconds.  All you have to do is answer a single multiple choice question, and you get paid.
Watch Videos
Swagbucks lets you watch short videos covering many different topics. Some of the topics include current news, sports and fashion and. Most videos earn 1 SB and are one minute or less. On average, you can earn over 30 points per day on videos.
When possible, look for nCrave and sponsored videos where you can watch a 30-second commercial. These videos award more points than standard viewing options.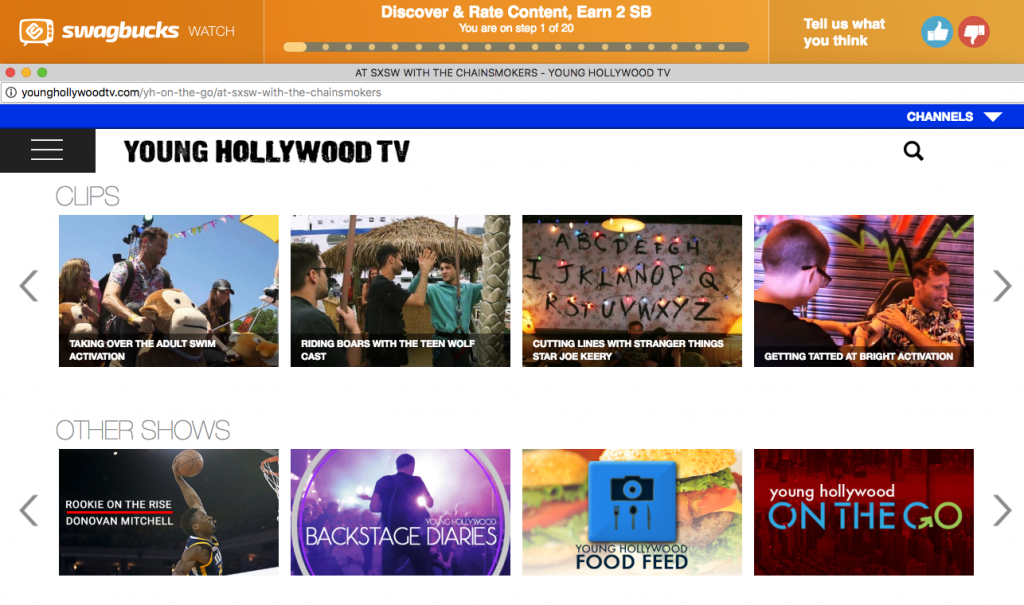 Besides the nCrave and sponsored videos, there are other better-paying ways to watch videos online.
Play Games
Swagbucks pays you to play free Swagbucks-themed games and paid games on networks like GSN. For paid games, you need to buy coins to earn 4 SBs per dollar you spend.  Some of the games include Bejeweled, Wheel of Fortune, and Solitaire.
You can also earn points by downloading free games for your phone. It's possible to earn between 300 and 5,500 points by playing these mobile games. Swagbucks requires you to reach a certain level in the game to earn the offer rewards.
Depending on what type of games you like to play, this may or may not be a good use of time. If you like to get paid to play games online, Swagbucks is a good option, but other avenues are more lucrative.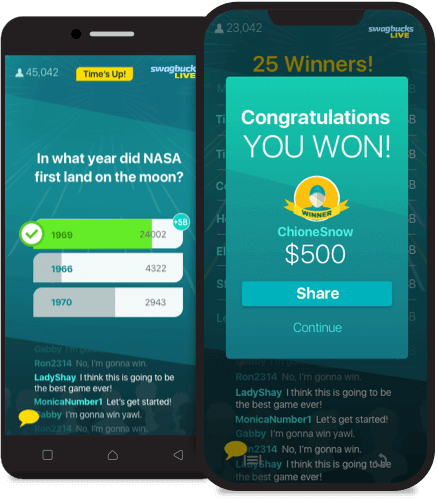 Get Paid to Shop
If you currently use a cashback portal like Rakuten, the Swagbucks shopping experience is very similar. You earn rewards points by making purchases at your favorite online stores.
It's possible to earn up to 40% cash back at almost any online store, making this a very lucrative option. However, most online stores award between 1% and 10% back.
You can also earn Swagbucks rewards for in-store purchases and scanning your receipts. Like grocery rewards apps, you activate offers for specific products. After buying the item at a participating store, you scan your receipt with the Swagbucks app.
Since you already shop at these stores, make the extra click to get paid to shop.
Print Grocery Coupons
You can also save money and earn money by printing grocery coupons from Coupons.com. Each coupon you print earns 2 points and 25 points when you redeem it.
Try New Products
In the Swagbucks "Discover" section, you get paid to test new products. You can expect offers to download mobile apps or to try new subscription services.
Most offers are free. But there are plenty of offers that require a purchase before you earn points. These paid offers have higher payouts to reimburse your purchase.
The best offers can let you earn as many as 10,000 SBs ($100) for doing activities like opening a new bank account. Swagbucks is constantly updating the offers so check the offer walls regularly.
Search the Web
There are two ways to make money surfing the web through Swagbucks:
Using the Swagbucks.com search bar
Making Swagbucks your default browser search engine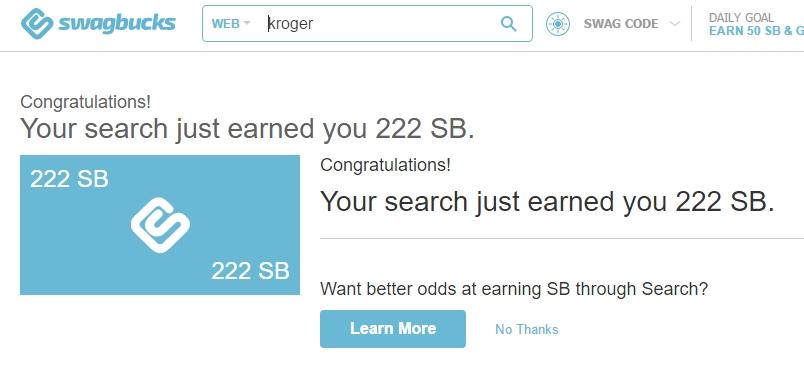 Some frequent Swagbucks users earn between 15 and 20 SBs each day because they perform several web searches a day. If you work online and do a lot of web research, you can earn SBs while you work. You won't earn points for every web search, but it's an effortless way to earn points.
The easiest way is to add the Swagbucks extension to your web browser. SwagButton credits your web searches and shopping purchases. Whenever you type a search term into your internet address bar, the Swagbucks search results populate, and you earn SBs.
Complete Online Micro Tasks
The final way to earn money is to complete various online tasks. Each task only takes a few minutes to complete yet more complex than taking a survey.
Some of the different tasks you can get paid to complete include:
Transcribing audio
Data entry
Verifying food ingredients and food item names
Most of these tasks require a computer instead of a smartphone to complete. You might have to transcribe audio or perform web research that is too hard to complete on a tablet or phone.
These microtasks are similar to what you find on Amazon's MTurk. With Swagbucks, you can also redeem them for Amazon gift cards too!
Additional Ways to Earn Swagbucks Quickly
Swagbucks makes it easy to earn bonus SBs in addition to the seven methods listed above.
Swagbucks App
Take Swagbucks on the go with their mobile app. You can earn points when riding the bus, taking a lunch break or on vacation.
In the app, you can answer surveys, play games, watch videos, shop, and discover product samples.
SwagButton Browser Extension
The browser extension makes sure you never miss the chance to earn points.
You can earn rewards points for the following activities:
Web Searches
Online Shopping
Swag Codes
New Survey Invites
I really like the SwagButton for web searches and online shopping. You no longer have to visit the Swagbucks site first for these two activities. If you're looking for Swag Codes, SwagButton users can receive exclusive codes!
Whenever you visit an online store, the extension also opens an alert window. Simply click the activate button to begin a Swagbucks shopping session.
Swag Ups
Each month, Swagbucks runs different promotions to earn bonus Swagbucks. In some months or weeks, you can earn bonus points for every survey you complete. Sometimes, you earn bonus points buying gift cards or making online purchases.
Check the Swag Ups page at the beginning of the month. You may also receive a bonus email if Swagbucks launches a mid-month Swag Up.
I usually receive three survey bonus Swag Ups each month. These bonuses apply to any Gold Survey you complete during the Swag Up period.
Be sure to activate the Swag Ups before you participate in the activity. There are several times I've missed these bonus because I forgot to opt-in.
Swag Codes
Every day, Swagbucks posts different Swag Codes on their website and across the internet for you to find. Once you find a code, redeem it on the Swagbucks website to earn your bonus points.
The SwagButton extension makes it easier to find the codes. You will receive hints like "Check Facebook." And, SwagButton users have access to exclusive codes that you only get if you have the button installed.
It's best to view Swag Codes as a bonus chance to maximize your points balance. Focus your efforts on the other earning streams to maximize your time spent on Swagbucks.
Daily Activity Bonuses
By completing at least six different activities on Swagbucks each day, you can receive a small SB bonus for your time. To earn the daily bonus, you will have to complete the following activities each day:
Attempt a Survey
Watch a Video
Perform a Daily Web Search
Browse the Daily Offers
Answer the Daily Poll
If you're an active Swagbucks user, this can be a fun challenge. I like to focus on surveys and offers since they have the highest payouts. If I don't qualify for the daily bonus, I can make up the difference by completing multiple surveys.
Swago
Keep your eyes peeled for this free contest to earn bonus points! Swago is a limited-time bonus open to every Swagbucks member. Each contest only runs for a few days, and it's a race to complete the entire board. There are 25 activities to complete on a Swago board that looks similar to a Bingo board. After completing a pattern of activities, you earn bonus points plus spins on the prize wheel.
SwagIQ
A recent new feature is SwagIQ. This is a daily trivia challenge where you can earn bonus points you can redeem for cash or gift cards. It's free to play, and you can win points even if you don't get the top score. Make sure you stick around for the bonus questions after each round to win even more points.
Refer Friends
Refer-a-Friend bonuses are a popular way to reward you for your brand loyalty. Swagbucks gives you and each referred friend the chance to earn $3 in bonus cash! On top of that, you also earn 10% of their lifetime earnings. If you already have several friends in mind, send them an invite, so you both earn the bonus points.
The Best Swagbucks Redemption Options
Where Swagbucks sets itself apart from others is its flexible and affordable redemption options. You only need a $1 balance to request payment. With this low threshold, it's possible to get paid weekly when you use Swagbucks regularly.
You can redeem your points for the following prizes:
Gift Cards
PayPal Cash
Charity
Swagstakes (Sweepstakes) Entries
Get $3 Gift Cards
Gift cards are the easiest redemption option as you only need a $1 balance for Amazon gift cards. However, most brands require a $3 (300 SBs) or $5 balance (500 SBs).
You can redeem your SBs for gift cards to your favorite stores and restaurants like Amazon, Burger King, and Nike. Redemptions start at 300 SBs ($3). Swagbucks periodically runs gift card sales so you won't need to redeem as many points.
Redeem Your Points for Cash
Cash rewards are the most flexible spending option but require more points than gift cards.
To receive PayPal cash, you will need to wait until you have banked up 2,500 points ($25) to redeem your SBs. It can take longer to earn PayPal cash, but this is the most flexible spending option.
When your balance reaches $10, you can also redeem them for a prepaid Visa gift card.
Two Other Redemption Options
If you don't want cash or gift cards, you can always donate your points to charity.
Finally, you can redeem your points for Swagstakes entries to win prizes, extra SBs, and gift cards at discounted rates if you win.
When is Swagbucks Worth It?
Swagbucks can be a perfect side hustle when you:
Have 15 minutes or less to complete an activity
Only want one side hustle app
Don't need the extra income that comes with a time-intensive part-time job
As one of the largest get-paid-to sites, Swagbucks can be a great option for teens and adults. You can name your hours and don't have the responsibility of a part-time job. Instead of wasting away your free time watching tv or surfing the internet, you now get paid.
While it depends on how you want to earn Swagbucks rewards, the most lucrative options will be:
Shopping online
Testing products
Answering surveys
Surfing the web
Almost anyone can benefit from Swagbucks because this site pays you to do anything you already do online. Swagbucks makes it convenient to make money online.
When Swagbucks Isn't Worth It
Swagbucks isn't always the best way to make money online. If you only want to get paid for one activity, other online sites can be more productive.
For example, dedicated online survey sites like Survey Junkie might pay you more per survey. This is because you can participate in focus groups and mystery shopping excursions that Swagbucks doesn't offer.
While you get paid for these activities, I try to avoid the following income streams:
Watching videos
Playing games
Entering contests
In my opinion, the effort required for these tasks doesn't always justify the payment amount. I usually focus on their surveys, offers, and online shopping. These three activities are worth your time.
If you're looking to make passive income or replace your day job, you will need to pursue other avenues.
Swagbucks is a good side hustle idea, but it won't replace a part-time job. I use Swagbucks in my free time, but I still pursue other side hustles with better pay opportunities first.
Summary
If you're looking for a way to make money by doing almost anything online, then consider going with Swagbucks legit. You won't get rich from it, but making extra cash online can be a productive use of your free time.
Even if you only use Swagbucks to shop online and answer surveys, you will still have fun while making money.
Do you already belong to Swagbucks? If so, what's your favorite activity? Let us know on social media!
Source link