Mark Barrett and James Fawcett's affiliate training promises as much as $1,000 in daily income. Is Phoenix your golden ticket to online success or is it a mere scam ready to rip you off? (They even say to stop buying useless shiny objects making it seem they are no part of those)
In today's review, I'm going to tell you everything you need to know about this course without having to take out a single dime from your pocket. You're going to know what this course teaches and if it can really help you make money online.
Let's face it, not every money-making course live up to your expectations. Instead of getting disappointed AFTER you pay for it, it would be better if you get disappointed now and start moving on so you can look for better alternatives out there. 
What We'll Cover In This Review:
What Is Phoenix?
Phoenix is a training course sold on WarriorPlus by Mark Barret and James Fawcett, launched just last September 13, 2020. It teaches how you can generate affiliate commissions using their "click rotator system". 
This means they'll teach you to run traffic on a squeeze page that rotates 5 offers instead of just one to increase the chances of landing a sale. In case a visitor doesn't fancy one offer, they'll be pitched with others to possibly convert in any one of them. 
Mark and James are serial affiliate product creators. Some of their other products are:
Instant Cash Explosions
Geared For Profits
7 Dollar Tsunami
60 Minute Paydays
30 Minute Mogul
Perfect Affiliate Storm
Infusion
As you can notice, the product names sound a lot like get-rich-quick schemes making me wary of both creators. Phoenix is no different, it claims you can make money from it in half an hour!
Not only that, knowing Phoenix is not their first product leads me to believe it won't be their last too. 
This is sort of off-putting to me because this somehow implies their other products didn't work enough to generate them unlimited income pushing them to create other income sources. 
I mean think about it. If they were able to create a highly profitable product, they could've simply worked on making a better and better version of it instead of creating completely different ones. 
Amusingly, the sales page starts off by saying they've been profiting from the Phoenix method for over 10 years. Then why did it take 10 years for them to share it with other people?
Here's what I think:
Maybe hoarding the "secret method" didn't make them enough money so they shifted their focus on selling the method to make money from it instead. (IF they've really profited from it for a decade)
They also say things like they've "cracked the code" to making money online which is funny because the review I did yesterday, 10x Profit Sites also used the same gimmick. 
Like many creators, Mark included an all too usual sob story. His version is he got laid off and was left with a mountain of bills to pay until the "Phoenix method" took his problems away. 
I really think they need to be more creative in compelling people to convert.
The hype isn't even halfway done. The "Phoenix method" is so easy, even a 10-year old can do it.
It also says you won't need to spend on expensive and time-consuming methods (ironically, you will), chatbots, ads (again you will), spam your social media, and make video content. Top that off with the hype that it levels the playing field for newbies. 
I'll disprove those claims later in the Inside The Phoenix Training section, so stick around. 
The Real Costs Of Following The Phoenix Method
The front-end training costs $12.95 but you'll get bonuses worth $788. You'll also have to spend $545 for upsells to unluck the training's full potential. During the training course you'll also have to spend $97/month for a funnel creator, $27/month for a rotator tool, $19/ month for an autoresponder, and at least $100 for solo ads debunking the claim you won't need to spend for expensive methods. 
All in all, you can end up spending a whopping $800 in a single month!
Anyway, here's a breakdown of the 5 upsells.
Upsell 1: Profit Automator ($37)
This gets you pre-made email swipes you can use for the email list you'll build. But I don't find these things useful because they always sound impersonal and sales-y. 
Email sales pitches need to be personalized and something projecting value for higher conversion chances. Pre-made swipes doesn't do the trick.
Upsell 2: DFY Package ($197)
Other than saying they've packaged something very special and unique that's a sure-fire way to get the money flowing, there's nothing more explaining what this upsell is. I think this is a strategy they employ to get you curious about what $197 can do for you. 
But I don't really think you'll fancy buying something expensive and not knowing what you'll get with it. 
Upsell 3: 10x Profit Box ($47)
This upsell is supposed to leverage your affiliate offer so you can earn 10x more. But this is all the info they give on it so there's no telling HOW it's supposed to make you earn 10x more. 
Upsell 4: Unlimited Traffic ($197) 
This upsells installs a tracking pixel on your squeeze pages so you can retarget the traffic with other campaigns. But unless you have initial targeted traffic, this upsell will be pointless. 
Upsell 5: License Rights ($67) 
This upsell allows you to sell the training yourself and keep the commission. I'll only buy this though if I prove I can make money with their training.
Some of the upsells' function is explained vaguely while the benefit you get from others is circumstantial. Unless you get initial targeted traffic or unless the training really works, the upsells will be pretty useless. 
Inside The Phoenix Training
Once inside the members' area, you'll see a list of videos ranging from 2-11 minutes divided into modules.
Module 1 is pretty self-explanatory.
Module 2 gives you a general idea of how you can earn income from the methods they use, aside from the "rotator system" there's nothing unique with the setup.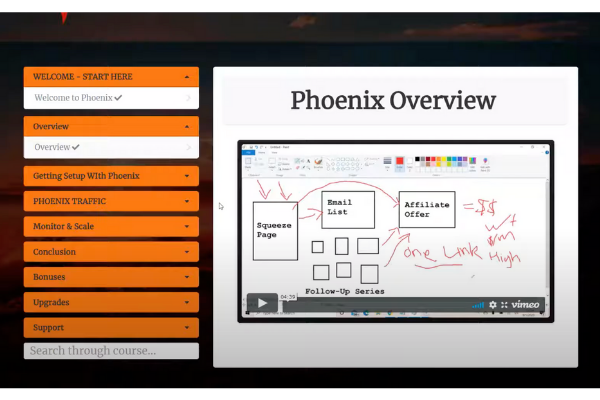 Module 3 includes 6 videos each explaining the following:
Finding Top Offers
Build Rotator- tells you to spend $27 for the ClickMagick rotator. 
Build Funnel- tells you to spend $97 for ClickFunnels
Integrate Autoresponder- tells you to spend $19 for Aweber
Set Up Follow-Ups
Test Funnel
This is where I'll expect your jaw to drop with all the things you need to spend on just to set everything up. ClickMagick, ClickFunnels, and Aweber are just some of the choices they've given, I just picked those 3 to show you the potential cost, roughly all other options cost the same anyway.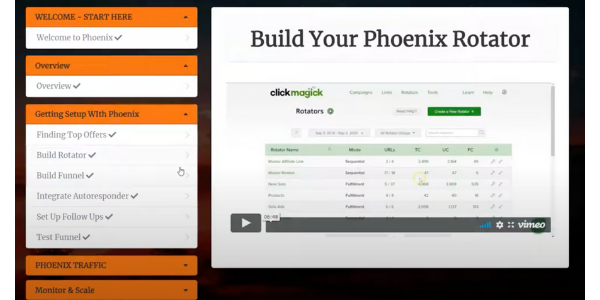 My guess is, they'll get commissions for promoting these to you. 
Module 4 reveals another pocket-boring tool you'll need to spend on. Apparently, the main traffic source they teach is solo ads. 
In theory, you can get boatloads of traffic just by paying marketers to send you campaign to their own email lists. 
Here's the thing:
The email list from solo ads are worn out from all the sales pitches they're flooded with almost every day. Your campaign will most likely land on the spam folder making the chances of it getting read next to zero. 
Here's a video showing you what you can expect inside the members' area:
Another thing, you won't be guaranteed to get targeted traffic, so you can end up spending on people who will never convert. 
Honestly, paying for solo ads requires skills and experience. You have to concoct the right campaign to move people to action. (If you ever land on the inbox folder)
This is not for newbies because it's a trial and error process, you'll potentially spend more than you'll ever make if you don't have enough experience with what works and what doesn't. 
So, you see, doing the methods they teach will cost you a limb and you'll need experience, quashing the claims they made on the sales page. 
They actually tried to summarize all the steps in making money into 3:
1. Pick a proven offer
2. Blast with traffic
3. Relax and enjoy the commission flood
I'm pretty sure you understand by now it's not as easy as they made it seem. Before you can ever "relax and enjoy" you'll go berserk with all the spending you need to make. 
4 Reason Why I Don't Like Phoenix
1. Scarcity Tactic
Uses a fake countdown timer to squeeze your money out fast. If that's not enough, they even said, "the offer will be gone soon to avoid potential saturation…if you want to get in you must move with fast feet". 

Total emotional deception.
2. Vague Testimonials
I find the testimonials pretty useless. Instead of telling you HOW they made money from it, all they ever say is how "amazing" the training is. 
3. Requesting A Refund Is A Pain
Instead of processing your refund directly, they'll try to hold you back as much as possible by bombarding you with a lot of other offers just so you won't get your money back. 
4. Claims Are Misleading
Unlike what they said on the sales page, the methods they teach are expensive and not for beginners. 
Is Phoenix A Scam?
No, Phoenix is not a scam. You do get training videos on how to use online tools like Clickfunnels, ClickMagick, Aweber, and others.
But I won't recommend it because there are important lessons they never teach like how you can get targeted organic traffic. They only teach you about things they can earn more from. 
Where Do You Go From Here?
There are no quick fixes in earning affiliate commissions. It's not enough to know how to use funnel creators and rotators and make things easy by spending on paid traffic. 
Making money in affiliate marketing involves a lot more than what Phoenix teaches. If you're a beginner, you'll get lost just by relying on the videos this training provides.
It doesn't tell you how to pick a niche, the importance of creating compelling content, how you can get targeted traffic, vital things you should know to get high conversions. Unless you know these things, your squeeze page will be left buried more than 6 feet under the search engine results.
No traffic, no visitors, no commission. You definitely don't want that to happen to you.
Ditch the quick fixes and learn everything from scratch with Wealthy Affiliate.
Unlike Phoenix, you can get started with Wealthy Affiliate for free. The great thing is, you don't only learn everything from scratch, you'll also have a community ready to help you out. 
Wealthy Affiliate is a time-tested affiliate training that has helped lots of marketers reach their online income goals. 
You don't have to take my word for it, you can head on to this tell-all Wealthy Affiliate review to know how you can get started without spending a dime. 
What's Your Take?
Did you feel like the sales video was all hype too? We're you disappointed by what they only teach inside the members' area? Share your thoughts in the comments section, we'd love to hear from you. 
Hi I'm IG, nope not a kin of the social media; I've been IG since '93. I'm 1 part writer, 2 parts reader and 3 parts puzzle nerd.
Source link