Dan Green expects you to believe building an online business with Instant Success Site is as easy as one single click. (That's what the website says) I can't emphasize enough how these words are mere gimmicks and just too good to be true. So, in this review, I'm going to expose the Instant Success Site for what it really is.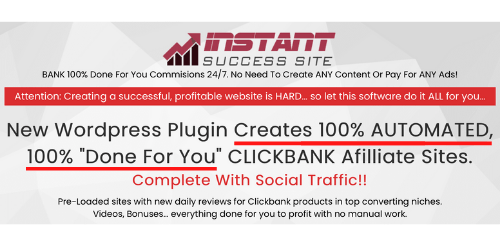 We'll uncover the truth behind the "100% done-for-you commissions 24/7" claim and every red flag indicating it's a scam so you can determine if Instant Success Site is worth taking your wallet out. 
Dan Green promises to create original content for your website to help with Google rankings to increase visitors and ultimately to grow conversions. It's only good in theory because the content is merely spun from existing content which Google can detect and even penalize. 
What We'll Cover In This Review:
What Is Instant Success Site?
Instant Success Site presents itself as an automated software helping you create income-generating websites with just one click of a button. It claims to create 100% done-for-you affiliate sites for ClickBank products.
In reality, though, Instant Success Site is a mere WordPress plugin spinning content from various sources for your website. Because it's a plugin, this means you should already have a website to install it to. It basically defeats the idea presented in the sales page of it creating 100% done-for-you affiliate sites.
It also claims you won't need to pay for ads because it comes with "social traffic" where you'll just need to connect your social media sites so it can post your website's spun content to it for you.
The whole concept reeks of a get-rich-quick scheme. It basically promises to make you an income without doing anything at all. The problem is, this concept doesn't work in the real setting. It's a sheer shiny shortcut attempting to trip you into believing you deserve tons of income without lifting a finger.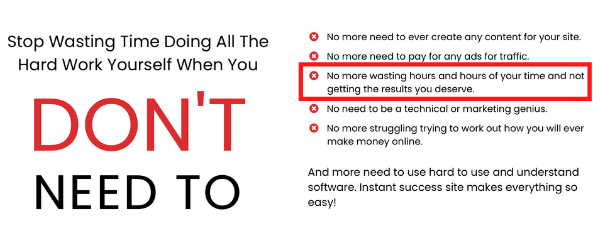 In schemes like this, there's always a catch because no one's ever going to offer you income on autopilot simply because they want to help you. 
Think about it:
If this really worked as promised, everybody will quit their jobs and just pay $17 or $19 to make money without doing anything at all.
While it's true you can make a decent sustainable online income, it always involves work and effort. Something offering less sweat should send an alarm bell ringing. 
The Creator: Dan Green
Nope, this is not Dan Green the novelist who creates stories appealing to the young. This Dan Green is the guy who tries to sell you the idea that: "creating a successful and profitable site from scratch is REALLY HARD" because you need to spend tons of hours on creating content and working on traffic.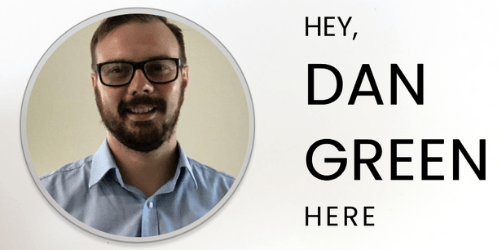 It's true, building an online business is not a walk in the park, but it's never as taxing as what he makes you feel. 
Connecting the dots, I realized this Dan Green owns the Youtube channel Byte Marketer (most of the videos on the members' area are from this channel. Also, the WarriorPlus receipt mentioned contacting [email protected] as the seller.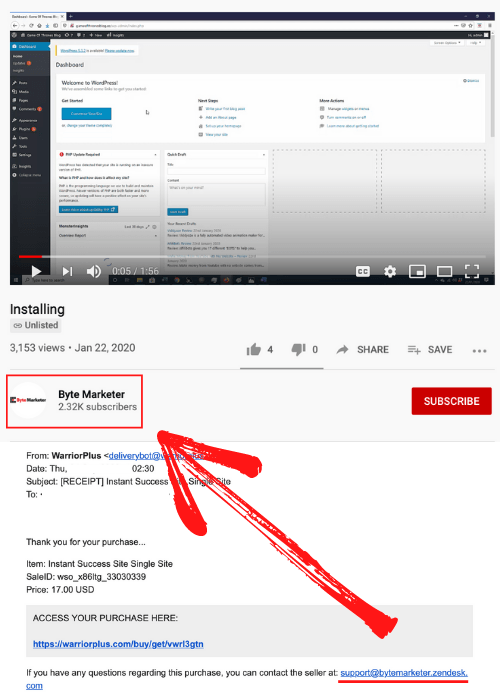 Here's the interesting part:
Dan Green aka Byte Marketer has tons of get-rich-quick system tutorials in his Youtube channel!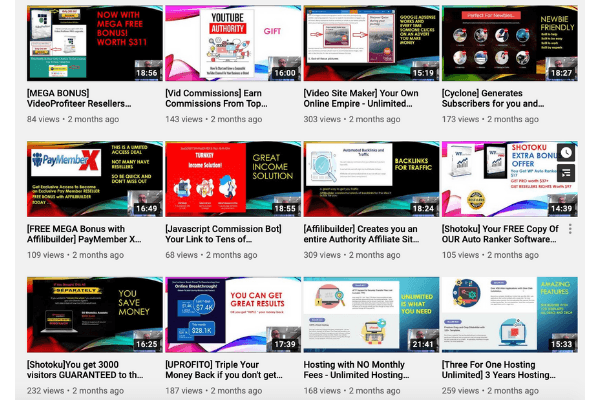 It makes you trust him lesser knowing Instant Success Site is not his first, nor his last get-rich-quick system. 
How Much Is Instant Success Site?
A single site license is worth $17 while an unlimited site license is worth $19. The difference between the two is self-explanatory. Of course, you realize the cheaper option is just a ruse for you to choose the $19 option thinking it's a way better for just $2 more. 
The thing is, after handing out a seemingly good deal of an amount for an autopilot program, you'll now come face-to-face with 4 upsells costing $168 in total. 
1. Upsell 1 
Is a $27 "Pro Upgrade" giving you "100% Original Spun Content. (What's  so original there?) It also includes "Twitter and Reddit Integration" so you can get traffic and grow followers from those two additional social sites. 
Higher ranking? Not really. Google is smart enough to detect spun content so instead of growing your rankings, you'll risk getting penalized. So, in the end, you won't get the rankings you expect. 
2. Upsell 2
Is dubbed as "Advanced Ninja Training" where instead of just getting "good results", you'll get "great, outstanding, and amazing results"! Add another adjective and I must just fall for it. 
3. Upsell 3
Is named Developers + Commercial/ Agency License where you get "rights" to handle clients' social media and traffic generation without any work needed because the software will do it for you.
4. Upsell 4
Is a Reseller's License, a "right" given to a "limited number of people" letting you sell the software and keeping all the profits to yourself. 
The whole idea of the upsells is to convince you you'll get the best-earning potential for spending more. The good news is, you can opt-out to all 4 upsells and you get 30 days to ask for a refund for the initial cost and the upsells. 
Inside Instant Success Site's Members' Area
Once inside the members' area, you'll immediately see the unreasonably sized header then the link to download the plugin. Under it is an outdated WordPress installation tutorial. (It's from 2016).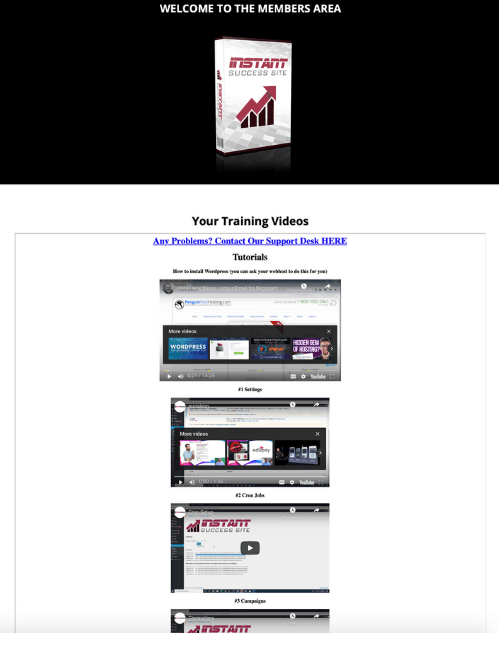 After it, you'll then see 6 basic 2-4 minute videos made by Byte Marketer covering the basic steps in setting up the plugins. 
The questions are:
Why do you need tutorials if you'll make money in a single click? And, do you really believe video tutorials under 30 minutes can help you earn hundreds every day?
Here's the real score:
1. Learning to make legit money online doesn't happen overnight. You have to learn every aspect of it and undoubtedly it doesn't take 24 hours to do it. 
2. Creating original and quality content yourself is what will help you rank and get noticed. Search engines like Google DO NOT rank duplicate content even if they are spun. In the end, you'll have a website that doesn't have any visitors to check out and buy your products. 
No matter how good your website is, if it doesn't drive traffic, you won't make any money. 
What about the social traffic?
It's a mere ploy to get you to think social media sites will get you visitors. However, what it only does is share your spun content to those sites. Unless you already have a lot of followers, you won't get anyone interested in clicking your shared content. Even if you do, they'll eventually get tired of your dull content and end up unfollowing you. 
Instead of just one click, Instant Success Site involves:
Setting up your WordPress site
Installing the plugin
Choosing 1 out of the 5 niches available
Adding your ClickBank affiliate link
Connecting your social media accounts to your website
A lot of clicks plus typing needed if you ask me. 
Still, even if you do all these steps, because your content is not unique, it's no use. 
The Instant Success Site Verdict
Instant Success Site is not an outright scam. But I won't recommend you using it because it's very misleading. I doubt you'll even make enough to cover the cost. 
I won't say it's a total scam because it does provide you a plugin. But all it can do for you is provide unoriginal content that won't get ranked. 
Even the disclaimer exposes the whole hype as fake:

If you really want to make money with affiliate marketing, shiny shortcuts won't do. You have to do the heavy lifting yourself. But it's not as heavy as what Instant Success Site makes it seem. 
A Better Alternative
Yes, you can make hundreds, even thousands from affiliate marketing. But not the way Instant Success Site makes it look. 
There's work involved but the great thing is, Wealthy Affiliate will give you all the training you need, including like-minded people you can consult with. The first 10 lessons are even free!
Stay as far away as you can from every glittery ticket to success. Learn how everything works yourself and have full control over your income potential.
Here's how affiliate marketing really works:
Create a niche-based website (basically on anything you like, there's tons of products to choose from)
Create ORIGINAL, NON-SPUN, compelling content
Get ranking and shares by promoting relevant and useful products from the niche you chose
If you want to learn more about Wealthy Affiliate and the real way affiliate marketing works, head on to this in-depth Wealthy Affiliate review.
What's Your Take?
Do you think the sales pitch was full of hype? Were you surprised it was just a low-quality plugin that doesn't deliver? Share your thoughts, the comments section is ready for you. 
Hi I'm IG, nope not a kin of the social media; I've been IG since '93. I'm 1 part writer, 2 parts reader and 3 parts puzzle nerd.
Source link