It's always a bummer to do paid tasks and get nothing in the end. If you want to avoid this ordeal, you might want to know if Jobs2Shop will do this to you so you'll know if you should avoid it or not. In today's review, you're going to find out everything you need to know before signing up for Jobs2Shop.
You might also wonder why a survey site is named Jobs2Shop. Are they selling jobs or something? You're about to find out!
What We'll Cover In This Review:
Jobs2Shop Review: Bite-Size Version


Product Name: Jobs2Shop
Product Description: Paid Survey Site
Jobs2Shop.com
Summary:
Jobs2Shop is a legit paid survey site offering cash in exchange for answering surveys. It also has other tasks available to make money from like playing games and completing offers. Each survey can pay around a few cents to $2 depending on how long it takes to finish. Although generally accepted to be legit, Jobs2Shop's offers like the referral program have some inconsistencies which sent an alarm bell ringing. Other than that, the minimum amount needed to cash out is quite and high and the payment process is painstakingly long. I don't see Jobs2Shop as something worth recommending because there are other survey sites that offer better deals.  
Earnings Per Hour –

5%



Survey Quantity –

5%



Trustworthiness –

5%



Pros
Joining is free
Rewards in cash
Gives sign up bonus
Cons
Only available for those in the US
Cashout requirement is high
Pays out only once a month
Allows one member per household only
Unclear referral program
Spam's user email
Wanna Make Money Online But Sick Of Surveys?
What Is Jobs2Shop?
Jobs2Shop is a paid survey site offering cash in exchange for doing tasks. It is based in Port Washington, New York, and has been around since 2012. The website says it already has 1,743,316 members and has paid $1,250,000.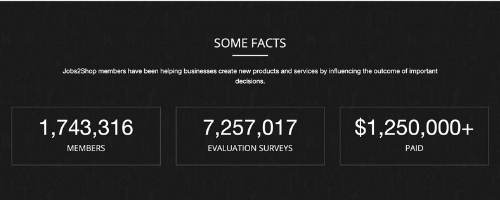 Since they gave some statistics, I did a little Math of how much each member earned in Jobs2Shop on average. 
Here's the shocking result:
Each member only earned (on average) $1.39!
This was just a quick calculation I made so some could have earned more BUT if they did, this means others earned a lot less. Which doesn't sound good for anyone considering signing up.
Anyway, let's give it a little chance for now and think they still haven't updated their statistics yet. 
How To Get Started With Jobs2Shop
Jobs2Shop only accepts US residents and those 18 years old or older to sign up. If you qualify for these 2 basic requirements, you can proceed in providing your full name and email address (which should be a similar one to your PayPal address because they only pay through PayPal). 
If you don't have a PayPal account yet, you can also sign up for one using this link.
You'll also be asked for your phone number, home address, birthday, gender, and other demographic details to get you to appropriate surveys. If ever you've given fake information and they find out, they can instantly cancel your membership. 
Also, they'll only allow one member from the same household, address, PayPal account, and device. 
After giving the needed details, you have to confirm your membership with the email they'll send. You then get a $5 bonus after finishing the sign-up process. After this part is done, you can start doing tasks to earn some cash. 
Just be reminded though that if you become inactive for 6 months, they will terminate your membership. 
If you noticed earlier, I mentioned about them asking for your personal details. Some people get wary about this because this can put you at risk of identity theft or stolen funds on your bank account. If it makes you feel more confident, the Privacy Policy states they won't sell, trade, or transfer your information. 

However, the last sentence is basically telling you they can spam your account with marketing offers they think may interest you. 
While it is common for them to ask personal questions like the ones mentioned above, if you feel you aren't safe, you can always skip this site to avoid risking yourself. 
5 (Or 6) Ways To Make Money In Jobs2Shop
1. Mystery Shopping
I started off with this offer because this is where Jobs2Shop got its name. Making money with this method requires you to spend on stores which they will later reimburse anyway. You will make money with this for testing the products you bought. 
After you buy the product and give your feedback about it, Jobs2Shop will pay you. 
I think this is a really smart offer by Jobs2Shop. Of course, they'll ask you to buy products from their partner brands so if you end up liking it, you'll wind up buying it regularly. 
Here's an idea of how much you can get for the products they ask you to buy and give feedback on:
Shoe product – $25
Furniture product – $60
Makeup product – $22
Gym services – $25
Fine dining eating – $30
Pays handsomely, right? However, just note that there won't be mystery shopping tasks all the time. If you see one, grab the offer right away. 
2. Surveys
This is the most common task you will make money from. Like other survey sites, Jobs2Shop partners with Peanut Labs to host the surveys. This means you have to answer demographic screening questions (the same questions you've probably given while signing up) to see if you fit as a panelist in a specific survey. 
Some surveys pay quick, others still need to be verified before you see your payment in your account. There's no specific amount for each survey length. A 17-minute survey can pay $1.39 but a 19-minute might only pay $0.29. 
They didn't assign any hard and fast rules with how much you'll get paid so you can't really be sure how much you can get from one survey. 
3. Paid Offers
Jobs2Shop also has paid offers. You can either be asked to watch a video, read an email, sign up for trials, or register to a website. 
Most trials are free, but after the trial period ends, they'll automatically charge you.  These free trials usually ask for your credit card details in advance, so it'll be easy for them to charge you when the trial period is over. To avoid this, keep track of when you signed up so you can cancel the subscription before it ends. 
Survey sites usually have these offers because advertisers don't reach out to them for research as much as they did before. By partnering with brands to offer free trials, they can earn a commission to keep the money rolling in. 
Free offers usually pay less than a dollar. Paid trial offers pay more, as much as $5. 
4. Playing Games
This is another common way of making money and it's actually quite fun. Just choose a game you like to play, they'll usually give instructions on how much you need to play to gain the reward and you just have to play it until they give the reward.
Each game pays differently so you can't really be sure how much you'll make.  
5. Cashback
Jobs2Shop allows you to access online shopping products through their website. If you buy items this way, they'll give you back some of the money you paid. If you're fond of online shopping, this can be a good way to the best value for what you buy.
6. Referrals
This is quite confusing. The homepage says you'll earn $5 for every person who signs up and does tasks in Jobs2Shop using your referral. 
Here's the kicker: 
If you check out Jobs2Shop's FAQs page it says there they currently have no referral program. So, I'm not really sure if this offer really exists or not.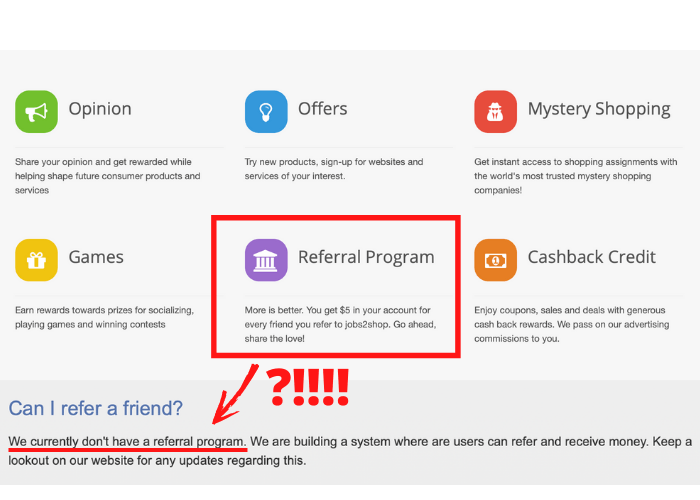 How To Get Paid With Jobs2Shop
Jobs2Shop only pay cash through PayPal. They used to pay in checks, but they got rid of this method now. Some tried to issue bogus checks which caused an issue with the bank, so they stopped this paying in checks. 
If you ask me though, I think PayPal is way more convenient than checks. A lot of survey sites offer gift cards, but I personally like cash because I can buy whatever I want with my money instead of being limited to what the gift cards offer. 
Here's a kicker: 
You can only cash out once a month and payments are only processed midnight EST on the 20th day of the month. If you need it fast, I don't think you'll have a choice. 
As to how much you can make with Jobs2Shop, it will always depend on task availability. If you checked the Math I did earlier, each member only gets less than $2 from it so I don't really think the potential is too high. 
At best, you can only make $15-$20 from it every month or more if mystery shopping is available. 
Here's another kicker:
Even if you reach the minimum cash-out requirement you still have to undergo verification before they'll actually send the money to your PayPal. This is another painstaking wait!
Check out this user's experience:
Overall though, it can only be good enough for a few extra cash and never as a full-time income source. 
Does Jobs2Shop Have An App?
No, there is no app for Jobs2Shop. You can still access it through your phone's web browser though. The website is optimized for mobile use so it's user-friendly. 
Pros Of Jobs2Shop
Free to join
Pays in cash
Has a $5 sign up bonus
Cons Of Jobs2Shop
Only available for US residents
High minimum cash-out requirement
Payout is only once a month
Only one member per household
Unclear with the referral program
Users' emails get spammed with offers
Is Jobs2Shop A Scam?
No, Jobs2Shop is not a scam. It's been around for 8 years and the testimonials found on the website show payment proof and are not stock photos.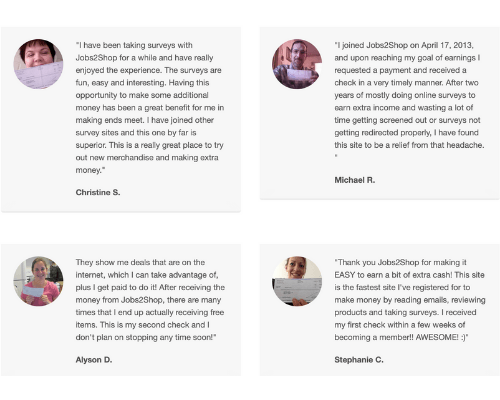 However, taking surveys with Jobs2Shop will only be good for a few extra bucks. 
Jobs2Shop Review: Closing Thoughts
Jobs2Shop is a legit survey site but it will only pay a few extra dollars at best. They have a good rundown of the privacy policy and they do not practice the bad habit of using stock photos for testimonials.
However, as I said earlier, you can't make much money from it. If you're looking for a way to make a full-time income online, one of the best ways to do it is by building your own online business with affiliate marketing.
You'll get the training you'll need and get to test the waters through the first 10 free lessons. If you like more details on how this works, check-out this Wealthy Affiliate review.
The best thing about it is, you can earn from it month after month and your income is not dependent on whether surveys are available or not.
You can check it out yourself instead of just reading it here, just click this link to get started!
What's Your Take?
Have you tried Jobs2Shop? How much did you make? Do you think building your own business is a better way to make money? Drop your thoughts in the comments section below. We'd love to hear from you!
Hi I'm IG, nope not a kin of the social media; I've been IG since '93. I'm 1 part writer, 2 parts reader and 3 parts puzzle nerd.
Source link